Trekking in the Catinaccio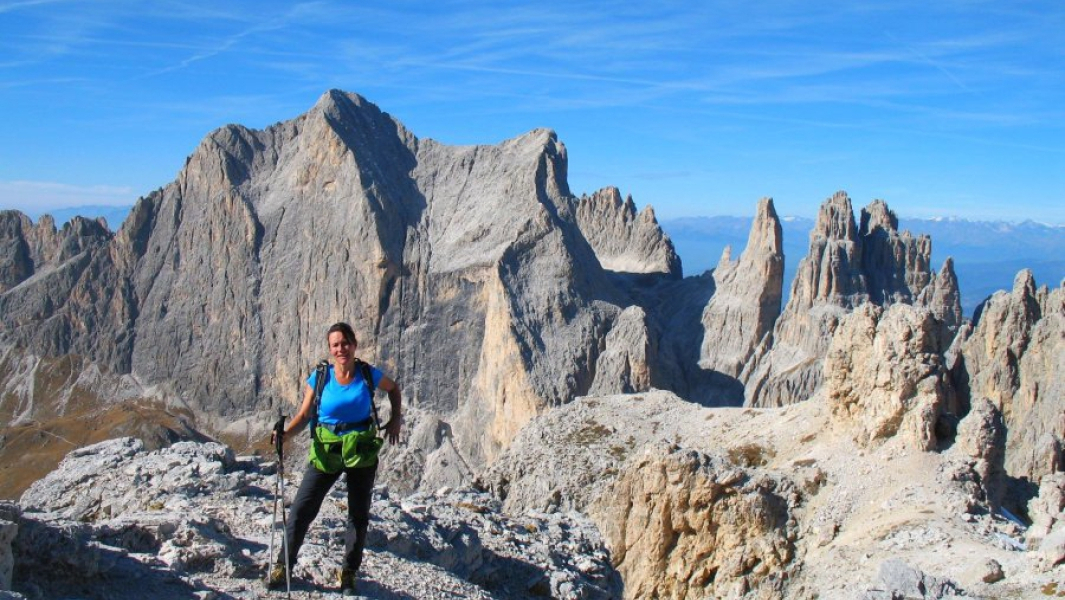 Trekking in the Catinaccio
from hut to hut
There are also lots of good walks in the Alpine region. Our daily routine is far behind us and we shall not be provoked by anything or anybody; our rhythm is marked by our eyes, ears and nose, in fact there is plenty to be seen, smelt and heard: the colours and perfumes of the alpine flora, the majesty of the alpine scenario with its creation and its history, the gurgle of the streams, the variety of the fauna with its sounds and its songs. We shall take you there and show you the fascinating mountains and reveal their secrets.
In order not to leave the "luxury zone" too soon, we have chosen as our point of arrival and departure a very comfortable hotel at Nova Levante. The various stages of the trek were chosen in such a way that each single day brings a new experience and then returns to base satisfied and pleasantly tired.
Finally it is in the hands of the host to finish off, in the best possible way, an unforgettable day on our mountains.
And we can assure you that our hoteliers and hut wardens are true masters when it comes to "spoiling" visitors.
| | |
| --- | --- |
| Sun: | Meeting point at hotel, information meeting, equipment check, overnight stay |
| Mon: | Passo Cigolade, Passo Antermoia, Antermoia - hut, overnight stay |
| Tue: | Passo Mahlknecht, around the Sasso Lungo, Sandro - Pertini- hut, overnight stay |
| Wed: | Ascent to the Sasso Piatto, transition to the Grasleiten-hut |
| Thu: | Passo Principe, Cima Scaliaret, Passo Pope, Vaiolett-hut, overnight stay |
| Fri: | Passo Coronelle, Hirzelsteig, Paulina-hut, overnight stay at starthotel |
| | |
| --- | --- |
| Requirements | Good physical condition |
| Equipment | On request we supply technical equipment free of charge |
| Accommodation | Hotel and various huts |
| Number participants | 5 - 8 persons to one alpine guide |
| Services provided | 5 days mountain guide, 6 days half board, transfer |